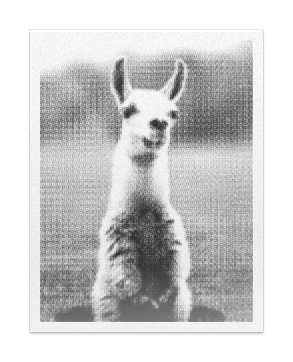 Name: Llamahog Gertrude Bicknevis III
Height: 2'10''
Weight: 348 lbs
Age: 4 years, 3 months
Sex: Who knows?
Eyes: Brown, cross-eyed
Wearing: Thick fur
Missing Since: January 31st, 2012
Missing From: Hollywood, CA
Last Seen:
Tourists visiting Los Angeles described seeing what they thought was either an abnormally tall Groundhog or a short and overweight Llama galloping near the Hollywood sign. Later in the afternoon, locals reported seeing a confused mammal staggering along one of the freeways, but Los Angeles police officials confirmed that it was just a confused starlet wearing a fur coat.
If you have any information on Llamahog's whereabouts or just want to help aid in the search, please don't hesitate to add your comments below.

Visit Prints Shop